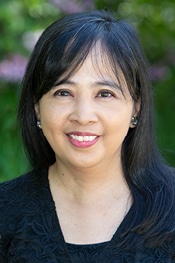 Sonia Blanco
Master of Science Psychology
Registered Clinical Counsellor
As a Registered Clinical Counsellor with a Master of Science in Psychology, Sonia has a deep background in helping others through an accumulation of work and volunteer experiences in the social services industry. Using her cross-cultural skills to support people from diverse backgrounds has been a hallmark of her career.
Sonia believes in the uniqueness of each person and the ability to make changes in one's life. She finds her role of being a caring and attentive listener with people to be a huge contributor to their growth and learning. Sonia has been described as someone that people can trust as they work towards important goals of improving mental health and overall quality of life. She also practices the skills she teaches others, including constant introspection and reflection to continually improve herself.
Sonia has training and experience supporting clients struggling with anxiety, depression, relationship concerns, as well as anger issues, grief and loss, addiction, and behavioural challenges. She also has experience working with immigrants dealing with adjustment, employment, discrimination, abuse and family reunification. Sonia uses an integrated theoretical background including Cognitive Behavioural Theory (CBT), Person-centered, Bowen Family Systems, Solution-Focused strategies, Trauma-informed Practice, Behavior intervention, and Mindfulness. She is an active learner who continues to expand her knowledge and skills to be able to address additional issues.
Sonia provides counselling services in English and Filipino.
Vancouver BC counsellor Sonia Blanco is currently accepting new referrals from across British Columbia, on Mondays, Tuesdays, and Saturdays.
Please email info.sonia@jerichocounselling.com to book an initial appointment with Sonia and you will receive a reply from Central Booking to assist with the process.