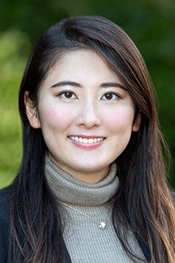 Yui Nishikawa
Master of Counselling (M.C.)
Registered Clinical Counsellor
Yui holds a Master of Counselling degree from City University of Seattle and is a Registered Clinical Counsellor with the British Columbia Association of Clinical Counsellors.
With more than 15 years of experience supporting children, youth, adults, and seniors affected by trauma, Yui has worked with clients in a variety of settings in Japan and Canada. Yui has a profound confidence in the ability of all people to access inner resources to find healing and growth.
With her background as a trauma counsellor, Yui has worked in various community and healthcare settings including Downtown Eastside working with women who were affected by intimate partner violence, childhood abuse, and addiction issues. She also has training and experience working with clients struggling with anxiety, depression, procrastination, perfectionism, life transitions, low self-esteem, relationship challenges, and systemic oppression including racism and sexism. In addition to her clinical experiences, Yui has passion in advocacy and education and facilitated workshops on various topics including stress management and trauma-informed practice for communities, healthcare professionals, and educators in Japan and Canada.
Yui believes that clients are the experts in their own lives and walks alongside her clients as a collaborator. While ensuring a warm and caring environment, Yui helps to amplify their innate resiliency by integrating Cognitive Behavioral Therapy (CBT), Internal Family Systems (IFS), Eye Movement Desensitization and Reprocessing (EMDR), and mindfulness techniques. In addition, Yui draws on Dialectical Behavioral Therapy (DBT), multicultural counseling theory, attachment-based theory, and anti-oppression/feminist ideals.
Yui provides counselling in English and Japanese, and also speaks conversational Mandarin Chinese.
Vancouver BC Counsellor, Yui Nishikawa, is available on Tuesday, Wednesday, Thursday and Saturday for counselling sessions and is currently accepting new referrals from across British Columbia.
To request an appointment with Yui, please email info.yui@jerichocounselling.com and you will receive a response from Central Booking to assist with the process.
15年以上日本とカナダで様々な生きづらさを抱える方々への支援に力を入れてきました。トラウマ治療が得意分野で、バンクーバーのDowntown Eastsideでの暴力・虐待被害女性や薬物依存症を抱える女性への支援をはじめ、様々なコミュニティや医療機関でのカウンセリングの経験があります。また、日本とカナダで教師や支援者向けのトラウマに関する講演や、一般向けのメンタルヘルス向上のためのワークショップを行っています。
人の心と体は困難を経験した時、一生懸命対処しようとします。このような状態が繰り返されると、心や体が疲れてしまうことがあります。また、自分自身や他者への信頼や繋がりが感じられず、一人で乗り越えることを困難に感じることもあります。カウンセリングでは、クライアントと二人三脚で共に悩みや生きづらさに寄り添いながらそれらの背景を整理し、ご自身が持つレジリエンス(生きのびる力、回復力、強さ)を引き出すお手伝いをします。そして、生きづらさから抜け出す方法を見つけ、ご自身や他者・世界への安心感や繋がりを再構築するサポートをしています。
分野:トラウマ(家庭内暴力、虐待、いじめなど)、鬱・不安、ストレス、低い自己肯定感、引きこもり、学業・仕事の問題、対人関係、異文化適応、性別・人種差別体験、喪失体験、親子関係など
技法:認知行動療法、内的家族システム療法、EMDR、マインドフルネス、愛着理論、フェミニストアプローチ、DBT、多文化間カウンセリングなどを組み合わせることで、ただ聴くだけではなく積極的に心身に働きかけるアプローチを行っています。また、何よりも来談者中心療法をベースにすることで、クライアントが安心して自由に話すことができる信頼関係や空間作りを心掛けています。
カウンセリングは英語と日本語で行っています。一人で悩まず、ぜひ一度ご相談下さい。