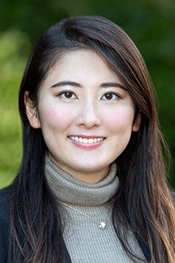 Yui Nishikawa
Master of Counselling (M.C.)
Registered Clinical Counsellor
Yui holds a Master of Counselling degree from City University of Seattle and is a Registered Clinical Counsellor with the British Columbia Association of Clinical Counsellors.

With more than 10 years of experience supporting children, youth, adults, and seniors affected by domestic violence and other forms of childhood trauma, Yui has supported clients in a variety of settings in Japan and Canada. Yui has a profound confidence in the ability of all people to access inner resources to find healing and growth.
Yui strongly believes in therapy that is non-judgmental and client-centered. She acknowledges that creating safety in the therapeutic relationship liberates clients from any shame or guilt that can sometimes arise when sharing our stories of pain and struggle.
With a genuine approach that is actively attentive, friendly, and warm, Yui brings brightness and hope to the therapeutic space. She prioritizes a stance of collaboration with clients at every stage of the process and ensures frequent reviews of goals and progress. Yui believes that clients are the experts in their own lives and walks alongside her clients as collaborator and witness.
Yui recognizes clients as individuals who are doing their best to tackle life's challenges with skills they have learned and built over time. Thus, she honors their past and current experiences, and helps to amplify their innate resiliency to manage difficulties and problems. Clients who work with Yui can achieve inner peace, better understanding of themselves and interpersonal dynamics, and coping skills that work for their unique challenges.
Yui integrates different modalities and tailors her approach depending on her clients' ongoing changing needs. She primarily uses Cognitive Behavioral Therapy (CBT), Internal Family Systems (IFS), and multicultural counseling theory. In addition, Yui draws on mindfulness techniques, attachment-based theory, anti-oppression/feminist ideals, and trauma-informed strategies. Yui has training and experience working with clients struggling with anxiety, depression, procrastination, perfectionism, life transitions, low self-esteem, relationship challenges, and systemic oppression including racism and sexism.
Yui provides counselling in English and Japanese, and also speaks conversational Chinese (Mandarin).
Vancouver Counsellor, Yui Nishikawa, is available on Tuesday, Wednesday, and Saturday for counselling sessions in our Virtual Clinic and is currently accepting new referrals.
To request an appointment with Yui, please email info.yui@jerichocounselling and you will receive a response from Central Booking to assist with the process.