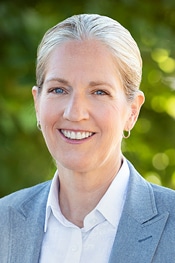 Dawn Schooler, Master of Arts in Counselling Psychology
Registered Clinical Counsellor
Executive Director
Dawn is the Executive Director and CEO at Jericho Counselling Clinic. She has been working as a counsellor, coach, and teacher for more than 25 years, in addition to many years in management in the non-profit, social services sector. Since 2007, Dawn has made Jericho Counselling her solitary career focus and has grown the clinic into a resource that is well known and highly respected around the Lower Mainland. Jericho Counselling is a name known to thousands of people in the community and has come to be trusted as THE place to turn when you are feeling stuck in life and looking for professional, accountable, and results oriented counselling services. Dawn has been behind much of the growth and recognition achieved at Jericho Counselling.
Running a highly successful, ethically accountable, and trusted clinic requires the leadership and vision of a skilled professional. Dawn takes her position very seriously and makes it her primary mission to ensure that every client who takes a chance by calling, emailing, or visiting the Jericho Counselling offices, has the sense of being well taken care of in a professional environment. She knows how hard it is for people to reach out for counselling and is passionate about making counselling more accessible to everyone who wishes to begin / continue their journey. Above all else, Dawn is driven to reduce the stigma attached to counselling, to deliver outstanding counselling to the community, and the utmost in customer service to each and every client that contacts Jericho Counselling.
Dawn continues to work with a small caseload of active clients but is no longer able to take on new clients, other than as noted below.
Since 2014, Dawn has been primarily engaged in working with clients who are part of a Family Enterprise System.  As a Family Enterprise Advisor (FEA), Dawn is putting her considerable business, facilitation, and conflict resolution skills to good use with assisting family members to progress through the inevitable challenges of families who work together through the generations.  Along with a cadre of other professionals, including lawyers, accountants, human resources professionals, financial advisors, and others, Dawn is enjoying the dynamic challenges of this area of the work.  If you are part of a family-owned business, or have questions about how Dawn may be able to support any aspect of engagement with family enterprise, please be in touch at the email address below.
Please feel invited to contact Dawn at dawn@jerichocounselling.com if you have questions about anything related to the clinic. These questions may include how to get Jericho Counselling connected with your employer's EAP (Employee Assistance Program), how to get assistance in changing your company benefits to include the services of Registered Clinical Counsellors (RCC's), special services to groups and companies, and any other concern that has you wondering if we can help.