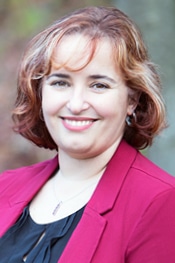 Clare Smith
Master of Counselling (M.C.)
Registered Clinical Counsellor
Clinical Director; Operations & Talent Experience

Clare has a Bachelor of Arts degree in Social Studies, focusing on mental health. She received her Master of Counselling Degree at City University. She is certified in Eye Movement Desensitization and Reprogramming (EMDR) which helps Clare to assist even more clients. As part of the Leadership Team at the clinic, Clare helps to oversee our intern program and build policy to keep Jericho Counselling adapting to the ever-changing needs for our clients and our community.
Clare has a variety of experiences working in the mental health field in the UK and in Canada, including working with people managing chronic pain, grief and loss, anger management, as well as folks dealing with anxiety and depression.
As part of her interdisciplinary background, Clare has also worked in finance for 13 years, providing advice on mortgages, loans, retirement planning, and investments. She took this knowledge, as well as her experience in the mental health field to become a financial counsellor, helping individuals, couples, and families work on their financial and emotional well-being. This experience prepared Clare for the transition into her counselling psychology practice.
Clare takes a collaborative approach with her clients, and integrates EMDR, Narrative, Internal Family Systems, Mindfulness and Cognitive Behavioural theories to tailor her work to each unique client. She is passionate about helping clients on their journey to mental wellness. Clare believes that her clients are the experts in their lives and enjoys working together to find the best way forward. Currently, Clare feels comfortable supporting clients who are struggling with anxiety, depression, relationship, work or financial stress, pain management, grief and loss, end of life decision making and life transitions.
Clare provides counselling services in English. Please note that Clare's fees are slightly higher than some other therapists at the clinic. You are welcome to ask about this during the initial booking process.
Vancouver BC Counsellor, Clare Smith is currently accepting new referrals from across British Columbia, on Mondays, Tuesdays, Wednesdays, Thursdays, and Sundays.
To contact Central Booking about a first appointment with Clare Smith, please send an email to info.clare@jerichocounselling.com and you will receive a reply from Central Booking.