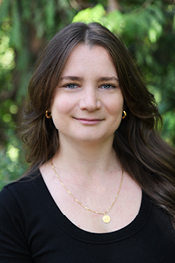 Eva Trabucco
Bachelor of Arts (BA)
Graduate Intern Counsellor
Eva is in her final year of the Master of Arts in Counselling Psychology program at Yorkville University. She is a student member of the Canadian Counselling and Psychotherapy Association (CCPA). Upon completion of her education, Eva will be pursuing the Registered Clinical Counsellor (RCC) designation with the BC Association of Clinical Counsellors (BCACC).
Prior to entering the counselling field, Eva worked as an online crisis counsellor for youth, helping them navigate their challenges and guiding them to a safer mental place, mindfully utilizing their own tools.
Using strengths-based techniques, Eva works to help clients identify their own strengths and develop a set of tools to better navigate their journey forward. Eva works with clients to cultivate self-awareness and self-understanding. She believes all the answers are there, and guides clients to discover them in their own time. Eva primarily uses Cognitive-Behavioural strategies (CBT) to help clients connect their thoughts, feelings, and behaviours, while also leaning into client-centred modalities. Eva believes people are the experts in their own lives. She takes a collaborative approach to provide an open space for her clients to navigate self-exploration. Through her compassionate nature, Eva consistently fosters trusting relationships with her clients and emphasizes the importance of the therapeutic relationship of being a non-judgmental presence for her clients.
Eva appreciates that everyone faces challenges unique to their own personal journey, and that everyone deserves the space to explore their emotions in a supportive setting. By taking a particular look at the "bigger picture," Eva guides clients to better understand relationships, patterns, and themes in their lives. Eva has experience supporting clients who are working through issues such as anxiety, depression, life transitions, trauma, self-esteem, relationship concerns, anger management, and grief and loss.
Eva provides services in English.
Graduate Intern Counsellor, Eva Trabucco, is accepting new clients from across British Columbia on Tuesdays and Thursdays. As a Graduate Intern Counsellor, Eva will be under the direct supervision of the Clinical Director, along with the support of her accredited university.
To inquire about a first appointment with Eva, please send an email to info.eva@jerichocounselling.com and you will receive a response from Central Booking to assist with the process.