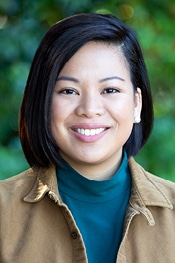 Christabel Umaguing
Bachelor of Social Work (B.S.W.)
Graduate Intern Counsellor
Christabel is a Graduate Intern Counsellor currently working on her Master of Arts in Counselling Psychology at Yorkville University. Her background working with youth with special needs, including those diagnosed with developmental, behavioural, social, and learning disabilities, has impacted her approach to counselling work. Christabel believes in providing support that is tailored to the client's unique needs. Rather than applying a 'one-size-fits-all' approach, Christabel honours diversity by integrating several theories into her work including Cognitive Behavioral Therapy (CBT), Solution-Focused Therapy (SFT), and Person-Centered Therapy.
Christabel believes that every person has the capacity to problem solve and achieve their goals. She looks forward to collaborating with her clients to explore their personal strengths in order to help them on their journey. Her current areas of focus include supporting clients who may be experiencing challenges related to anxiety, depression, relationship issues, life transitions, and behavioural concerns.
Christabel provides counselling services in English.
Graduate Intern Counsellor Christabel Umaguing is accepting new referrals at our Broadway location on Tuesdays, and at our Downtown location on Saturdays.
Please email info.christabel@jerichocounselling.com to request information about booking a first meeting and you will receive a reply from Central Booking to assist with the process.