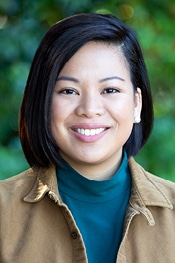 Christabel Umaguing
Master of Arts in Counselling Psychology (M.A.)
Registered Clinical Counsellor
Assistant Clinical Director

Christabel (she/her) is a Registered Clinical Counsellor with a Master of Arts in Counselling Psychology from Yorkville University. Her background working with youth with autism and ADHD, as well as different behavioral, socioemotional, and learning challenges, has impacted her counselling practice. Rather than applying a 'one-size-fits-all' approach, Christabel is attuned to diversity—the various factors and unique experiences that shape a person's identity and perspectives. As part of the Leadership Team at the clinic, Christabel helps to oversee our intern program and build policy to keep Jericho Counselling adapting to the ever-changing needs for our clients and our community.
Christabel integrates different counselling models into her work with individuals such as, Cognitive Behavioral Therapy (CBT), Acceptance and Commitment Therapy (ACT), Solution-Focused Brief Therapy (SFBT), and mindfulness techniques; she also draws from the Gottman Method or attachment theory when working with couples. With every new client meeting Christabel utilizes a collaborative approach, one where clients are active agents in their own treatment planning and evaluation.
Christabel appreciates that as human beings, we all experience difficulties which can include anxiety, depression, relationship difficulties, stress, anger, life transitions, grief, and trauma, among others. Throughout these challenges, Christabel believes in tapping into client strengths as tools are developed to address such adversity. Her work often involves supporting clients with forming a clearer understanding of barriers to positive change, cultivating new relationships with thought patterns and emotions, learning to ground in the present when issues can pull focus away from what is most important in life, or designing personal self-care plans that honour holistic needs. Every step of the way, Christabel works with and learns from her clients as they broaden their skills and build the confidence to independently manage life's challenges.
Christabel provides counselling services in English.
Vancouver BC Counsellor Christabel Umaguing is accepting new referrals from across British Columbia, on Tuesdays, Wednesdays, Fridays and Saturdays.
Please email info.christabel@jerichocounselling.com to request information about booking a first meeting and you will receive a reply from Central Booking to assist with the process.