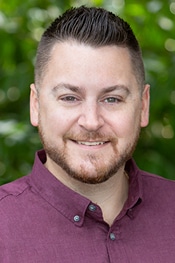 Cole Renner
Master of Arts degree (MA)
Registered Clinical Counsellor
Clinical Director; Intern Services, Business & Brand Experience

Cole is a Registered Clinical Counsellor with a Master of Arts in Counselling Psychology from Yorkville University. As part of the Leadership Team at the clinic, Cole helps to oversee our intern programs and build policy to keep Jericho Counselling adapting to the ever-changing needs for our clients and our community. As a lifelong learner, Cole embraces the opportunity to continue learning and growing alongside his clients and recognizes that overcoming the stigma associated with depression, anxiety, burnout, and other mental health challenges sometimes begins with taking that first step by reaching out and asking for help.
Cole proudly classifies himself as a "generalist practitioner." From anxiety and depression to addiction and couples counselling plus many other areas of focus, Cole works with a wide array of clients and thrives in that diversity of experience. Some of his most frequently used techniques include Cognitive Behavioural Therapy (CBT), Rogerian/Person-Centred, Solution-Focussed and Narrative Therapy. He brings a genuine caring and concern to each session and views the counselling work done together as a partnership. With a view of the client as the expert in their experience, Cole aims to bring the insights and perspectives from that expertise to the surface to better accommodate desired changes in clients' lives.
Over the years, Cole has established long standing therapeutic relationships with many clients. By focusing on what they feel is important, he is able to implement different styles, techniques, and perspectives that resonate with their individual needs. Cole is passionate about people finding what they are seeking when they reach out for help. With this in mind, Cole also works closely with clients to ensure they are confident with the work being done in therapy as they progress to meeting their goals related to growth, healing, and wellness, and will constantly adapt and course correct to keep the process heading in a positive direction.
Cole provides counselling services in English. Please note that Cole's fees are slightly higher than some other therapists at the clinic. You are welcome to ask about this during the initial booking process.
Vancouver BC Counsellor Cole Renner, is currently accepting new referrals from across British Columbia, on Wednesday through Saturday.
Please email info.cole@jerichocounselling.com to request information about booking a first meeting and you will receive a reply from Central Booking to assist in the process.