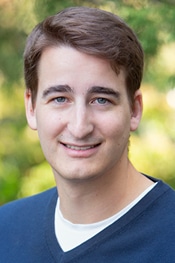 Tyler Holland
Master of Counselling Psychology
Registered Clinical Counsellor
Tyler has a Master of Counselling Psychology degree from Adler University and is a Registered Clinical Counsellor (RCC) designation with the British Columbia Association of Clinical Counsellors. With a diverse background of experiences that includes working with youth, researching bullying and cyber-bullying, as well as studying abroad, Tyler thrives in the therapeutic setting where he has the opportunity to help clients discover and achieve their personal goals and dreams.
Tyler approaches his counselling work from a client-centered perspective with a dedicated focus on empathy and understanding with his clients. Often described as having a calm, caring, and empathetic presence, Tyler works collaboratively with clients to help them build upon their strengths and address the difficulties they may be experiencing. He understands the frustration and helplessness that can result from feeling stuck with mental health issues such as anxiety, stress, depression, life transitions, anger management, and addiction. Tyler can work with you individually or in collaboration with your partner and/or family to create a treatment plan that fits your unique circumstances.
Through an integrative approach to counselling, Tyler aids clients in coming to a greater understanding and acceptance of their feelings. This enables clients to more clearly identify their values and move towards greater health, fulfilment, and engagement with life. Tyler's experience with a diverse array of counselling approaches allows him to draw upon elements from Cognitive Behavioural Theory (CBT), Person-Centered, Emotion-Focused, and Solution-Focused Therapy, as well as mindfulness practices, in order to meet the needs of each client.
Tyler provides counselling services in English.
Vancouver BC Counsellor Tyler Holland is accepting new clients from across British Columbia, on Mondays, Wednesdays, and Thursdays.
To inquire about booking a first appointment with Tyler, please email info.tyler@jerichocounselling.com and you will receive a reply from Central Booking.