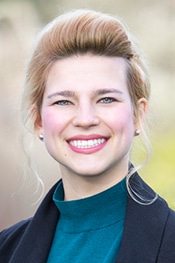 Chelsea Carey
Master of Arts (M.A.)
Registered Clinical Counsellor
Chelsea has a Master of Arts in Marriage and Family Therapy program from North Central University and is a Registered Clinical Counsellor. She is also pursuing accreditation as a Registered Marriage and Family Therapist through the Canadian Association of Marriage and Family Therapy.
Whether you are an individual, part of a couple, or a family member, Chelsea will offer evidence-based support from a systemic-perspective, believing that each person has the strength and skills needed to be successful in therapy and in life. Chelsea recognizes that sometimes we become stuck in unhealthy beliefs about ourselves and the world that prevent us from achieving our goals. We fall into patterns of behavior in our lives and relationships that may be holding us back from achieving fulfillment. Within these beliefs, there is the opportunity to create new meaning and understanding of the world around us, which helps to break unhealthy patterns and build satisfying relationships.
Chelsea has spent 5 years living overseas in Australia and Dubai and travelled to 85 countries bringing a unique cultural lens to therapy and first-hand experience integrating into a new culture. She has worked with non-profit services for at-risk youth and is an active volunteer for youth and women's organizations and a firm believer in the power of mentorship to help individuals achieve their potential.
Using an approach that is holistic and recognizes the mind-body connection, as well as attachment based and trauma informed, Chelsea supports her clients with an authentic presence that is warm and gentle. She works with the Gottman Method, Emotionally Focused Therapy, Narrative Therapy and Solution Focused Brief therapy among other modalities. Chelsea will work with you individually or with your family or partner to create a custom treatment plan aligning with your goals. Her areas of experience are life transitions, divorce and mediation, support for LGBTQ2S+ individuals and families, domestic violence, infidelity, childhood sexual abuse and complex trauma, relationship stress, depression, anxiety and more.
Chelsea provides counselling services in English.
Vancouver BC Counsellor Chelsea Carey is accepting new clients from across British Columbia, on Tuesdays, Thursdays, Fridays, and Saturdays.
To inquire about booking a first appointment with Chelsea, please send an email to info.chelsea@jerichocounselling.com and you will receive a reply from Central Booking.