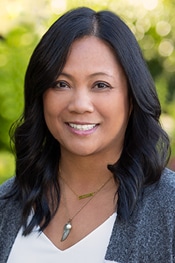 Trixie Cruz
Master of Education in Counselling Psychology
Registered Clinical Counsellor
Trixie is a Registered Clinical Counsellor and holds a Master of Education degree in Counselling Psychology. She has over a decade of experience as a Resource teacher and works closely with students who have been diagnosed with diverse learning profiles that require additional educational support in the classroom. As a former university athlete and a current basketball coach, as well as a first-generation immigrant, and parent, Trixie brings passion and deep life experience to her work as a counsellor and therapist.
As a student-athlete, Trixie was a leader of her varsity basketball team for the University of British Columbia and that same passion for sport, growth, and learning came with her into the world of coaching, where she has spent the past 15 years as a basketball coach for community and high school programs. With Trixie's background as a teacher and coach, she naturally brings a person-centered, goal-oriented, solution focused approach to her counselling practice and is capable of working from multiple theoretical orientations to suit the needs of her clients. These orientations include: Emotion Focused Therapy, Cognitive Behaviour Therapy (CBT), and Mindfulness techniques. She believes in the importance of a therapeutic alliance for creating change and helping clients find new perspectives in their current circumstances.
Trixie takes pride in being a non-judgmental counsellor who understands that everyone has their own unique life story. She is a first-generation immigrant from the Philippines and has an identical twin sister along with two older siblings. Trixie was also widowed in 2016 when her husband of 20 years passed away from cancer, leaving her to raise their three teenage sons. As a result, Trixie has many personal experiences that she brings to her practice with regards to grief, parenting, family relationships, stress, anxiety, depression, addiction, life purpose, and life transitions. She believes people are able to draw on their own adversities to grow resilience and find meaning in life's challenges.
In addition to Trixie's experience working with students and athletes, she embraces the opportunity to meet with children and adolescents as well as adults working through issues in their various life stages. If you are looking for a warm, caring, and authentic counselling experience, Trixie would welcome the opportunity to meet with you and see if there could be value in working together.
Trixie provides counselling in English and has a native understanding of Tagalog.
Vancouver BC Counsellor Trixie Cruz, is currently accepting new referrals from across British Columbia, on Sunday and Monday.
Please email info.trixie@jerichocounselling.com to inquire about booking an initial appointment with Trixie and you will receive a response from Central Booking to assist in the process.