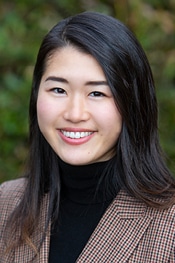 Rena Iwasaki
Master of Counselling Psychology (MCP)
Canadian Certified Counsellor
Rena completed her Master of Counselling Psychology at Adler University in Vancouver. Through the process of her own physical, mental, and spiritual healing after a life-threatening accident, it became her passion to open up more conversations on facing death and exploring the meanings of one's life. This journey led Rena to join the Team at Jericho Counselling with the aim of supporting others on their equally challenging journeys to growth and healing.
Rena is also passionate about supporting people whose voices have been silenced. She believes that each person's beliefs and behaviours have underlying purposes even if they may sometimes be perceived negatively by others. Her hope is to hold a space where everyone coming to see her is able to voice themselves, and where she can encourage her clients to rediscover their own inner strengths and resources. Rena's mission is to respect her clients' autonomy and to support them in moving toward their own goals.
In her work as a counsellor, Rena has supported people who have been affected by depression, anxiety, substance use issues, childhood trauma, chronic illness, chronic pain, terminal illness, life transitions, grief and loss, spirituality exploration, vocational concerns, sexual orientation, cultural issues, relationship challenges, and communication skills. While she uses an integrated approach and tailors her therapy uniquely for each of her clients, Rena primarily uses Mindfulness-Based Cognitive Behavioural Therapy for short-term symptom reduction purposes, and uses Adlerian Therapy and Mindfulness-Based Somatic Therapy for long-term treatments.
Rena provides counselling in English and Japanese.
Vancouver BC Counsellor Rena Iwasaki, is currently accepting new referrals from across British Columbia.
Please email info.rena@jerichocounselling.com to request information about when Rena will be available to see clients again.
誰でも人生で一度は行き詰まってしまうことはあります。大抵は何か小さなキッカケで再前進することができますが、自分で何をしても前に進むことができないと感じることもあると思います。その様な時に「恥ずかしいから」、「めんどくさいと思われたくないから」など、家族や友達に相談したいけれど、話を切り出すことが出来ない理由はいくつかあります。赤の他人だからこそ個人的な問題を打ち明けてもカウンセラーはあなたの問題を客観的に見ることができます。その上、守秘義務の制限を除いてJericho Counsellingでは、クライエントとのセッション内容が外部に漏れることが決してありません。
全てのクライエントが自身の「声」を自由に発言できるスペースを提供し、自身が持つ「強さ」を再度探し出すことによって、行き詰まった場所から目標へと前進することができる為の精神的サポートをしていきたいです。
技法: アドラー 心理療法、マインドフルネス認知行動療法やマインドフルネス身体療法を主に使いますが、クライエントそれぞれの問題に沿って技法を適用していきます。
適応分野: うつ病、不安障害、トラウマ、中毒、慢性疾患、身体障害、カルチャーに関しての問題、人生の大きな転換、別れや死などに対しての悲しみ、仕事、人間関係、など。
英語と日本語でのカウンセリングを行っております。