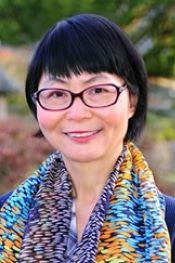 Li Shao
Master of Arts (MA) in Counselling Psychology
Registered Clinical Counsellor
Li has a Master of Arts degree in Counselling Psychology and is a Registered Clinical Counsellor. She has been working and volunteering for mental health institutes and crisis centres for the past ten years.

Li has a strong background in both oriental medicine and brain research. She believes in mind-body integration and also understands the complexities of brain activity, which can often lead to suffering. In her practice, Li uses a holistic approach while respecting the individual differences of each client and the challenges they face.
Warm, peaceful, empathic and patient are words that have been used to describe Li's approach as a therapist. She is a great listener. She is supportive and non-judgemental. Li uses Cognitive Behavioural Therapy and Awareness / Mindfulness training in her work. She has experience in helping individuals with difficulties arising from anxiety, depressive mood, relationship conflict, and traumatic emotion induced by abusive childhood experiences. By working with Li, you will attain a peaceful mind, enhanced body awareness and gain new perspectives in thoughts and feelings. Her focus is to help you to become a whole and stronger person in life.
邵黎女士在加拿大获得心理学硕士学位,是BC省的注册心理治疗师,在温哥华从事心理治疗.
作为从中国大陆来的新一代移民,邵黎女士对新移民所经历的事业调整,子女教育,夫妻关系非常了解.她擅长帮助朋友调整心态,树立信心,摆脱焦虑,处理人际关系,家庭关系,工作学习关系.邵黎女士善于倾听,长于帮助朋友走出各种创伤的阴影.
在工作中,邵黎女士采用认知行为疗法和觉知训练帮助朋友走向身心健康.
Li provides counselling services in English and Mandarin.
Vancouver BC Counsellor, Li Shao, is currently accepting new clients from across British Columbia, but there may be a wait for an initial appointment.
To request information about an appointment with Li in the future, please email info.li@jerichocounselling.com and you will receive a reply from central booking to assist with the process.