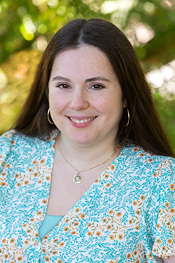 Maria Nikol
Bachelor of Arts (BA)
Graduate Intern Counsellor
Maria is in her final year of the Master of Arts in Counselling Psychology program at Yorkville University. She is a student member of the Canadian Counselling and Psychotherapy Association (CCPA). Upon completion of her education, Maria will be pursuing the Registered Clinical Counsellor (RCC) designation with the BC Association of Clinical Counsellors (BCACC).
Prior to entering the counselling profession, Maria worked for many years in the medical services field, assisting a diverse range of people from different backgrounds, age groups, and paths in life. She believes that people can often meet the challenges they face by uncovering the latent strengths and abilities that are already within them. In addition, Maria sees great value in cultivating courage in the face of difficulty.
Maria's life journey has led her to appreciate human nature, with all its many nuances and contradictions. This informs her counselling approach. She strives to provide a counselling environment where clients can explore their thoughts, behaviours, and feelings without reservation or fear of judgment.
To honour human diversity and the challenges that people may face, Maria believes in applying an eclectic psychotherapeutic approach. She also strives to tailor this approach, drawing from different interventions in order to meet the needs and personal beliefs of the clients she works with. Maria may integrate techniques into her counselling work such as, Cognitive Behavioural Therapy (CBT), Acceptance and Commitment Therapy (ACT), and Solution-Focused Brief Therapy (SFBT).
Maria provides services in English.
Graduate Intern Counsellor, Maria Nikol, is accepting new clients from across British Columbia on Wednesdays and Sundays. As a Graduate Intern Counsellor, Maria will be under the direct supervision of the Clinical Director, along with the support of her accredited university.
To inquire about a first appointment with Maria, please send an email to info.maria.n@jerichocounselling.com and you will receive a response from Central Booking to assist with the process.