Couples & Marriage Therapy in Vancouver & Throughout B.C.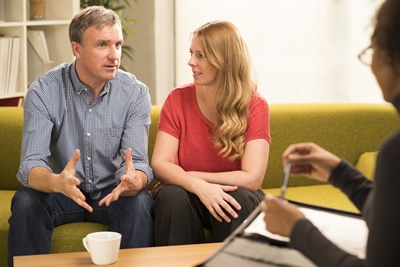 Couples bring a unique dynamic to counselling. Both parties are involved in their relationship problems and therefore both play a role in building and implementing solutions. It is helpful to have counselling services from a professional who can provide a safe environment in which both partners can feel heard and understood. It is equally important that each member of the couple feel empowered to act and be accountable for contributing to the positive progress of counselling and life outside of the therapy room.
Our Counsellors have extensive training and experience providing marriage and relationship therapy. We use very active, 'here and now' approaches to inform the couples counselling that we do. One example of a method we used is the The Gottman Method for Healthy Relationships which helps strengthen a couples' bond, prioritizes supportiveness and promotes a collaborative approach to resolving conflicts. These methods have been proven to work well for, and to be well received by, both men and women in relationships. At Jericho Counselling we are also experienced with a wide range of alternative types of relationships and our clinic is a place where you will feel welcomed and understood.  We focus on getting to know our clients, learning what their marriage and relationship issues are, and then moving forward with techniques that encourage the building of new skills to allow couples to move beyond the "same old arguments" common in marriage and relationships and toward new ways of interacting.
Couples can often get caught in the habitual dance of repetitive conversations and behaviours, even when they are aware of these patterns.  At our offices in Vancouver and via our Secure Virtual Counselling platform, the Jericho Counsellors assist couples to understand how they may be struggling with the physiological flooding that often happens when our brains interpret a threat or fear.  Conflict with a partner can definitely create the feeling of being threatened or fearful and we very quickly find ourselves in the 'survival' part of our brain, which is great if there is a serious physical danger present, but not that helpful if we are just trying to work through something with our partner.  With the help of the counsellors at Jericho Counselling, couples can learn necessary skills to calm the flooding, be more fully aware of what is happening in our brains and bodies, and then engage with the 'smarter' part of our brains to give ourselves the best chance of a good outcome in a potentially difficult situation.
Please click the following links to take you to more information about the issues that may be resolved through counselling.
Counselling for Separating / Divorcing Couples
Cross Cultural Couples Counselling
---
Contact us for your First Complimentary Consultation