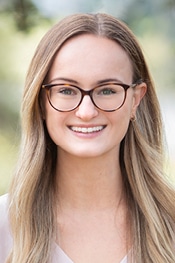 Haley Casselman
Bachelor of Arts (B.A.)
Graduate Intern Counsellor
Haley completed her Bachelor of Arts in Psychology at the University of Victoria and is in the final year of a Master of Arts in Counselling Psychology at Yorkville University. She is a student member of the Canadian Counselling and Psychotherapy Association (CCPA) and is pursuing a Registered Clinical Counsellor designation with the BC Association of Clinical Counsellors (BCACC) following the completion of her degree.
Known for her empathetic and patient nature, Haley's approach to counselling is to provide a safe environment for people to share their experiences and perspectives. With her understanding of the therapeutic relationship's role in self-awareness and change, Haley aims to help people navigate their challenges in a supportive and empowering way.
Through her work and volunteer positions in the mental health and health care fields, Haley has worked with and supported those experiencing anxiety, depression, relationship stress, loneliness, and many different mental health challenges. As she recognizes individuals as the experts on themselves, Haley works collaboratively with clients to develop approaches that fit their unique goals and needs. As a counsellor, Haley integrates Cognitive Behavioural Therapy (CBT) techniques, Client Centered approaches, evidence-based interventions and strategies from other modalities. Whether you are going through a challenging time or seeking self-development, Haley is here to support you on your unique journey.
Haley provides counselling services in English.
Vancouver Intern Counsellor, Haley Casselman, is accepting new clients in our secure Virtual Clinic where she sees clients on Wednesday, Friday, and Saturday. As a Graduate Intern Counsellor, Haley will be under the direct supervision of the Director of Clinical Services, along with the support of her accredited university.
To inquire about a first appointment with Haley, please send an email to info.haley@jerichocounselling.com and you will receive a response from Central Booking to assist with the process.