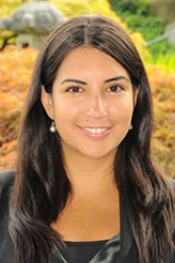 Sandra Buenano
Master of Counselling Psychology (MCP)
Registered Clinical Counsellor
Sandra holds a Master of Counselling Psychology from Adler University; as well as a Bachelor of Arts degree from the University of British Columbia with a Double Major in Psychology and Family Studies. As an immigrant for 17 years and over 15 years of experience working with children and families, Sandra understands the complexities that arise when juggling the multiple demands of life that face all of us every single day. Bringing her genuine nature into every interaction with clients and communities, Sandra has a way of gently challenging us all to be the best version of ourselves and to believe that growth and healing is always possible.
Sandra believes that the primary role of a counsellor is as collaborator and facilitator.  In her work with clients she takes a team approach and tailors therapy according to their individual needs. A key to this relationship is helping clients identify their barriers to success, discover what is keeping them "stuck" in reaching their goals, and develop the strategies and tools they need to move forward.  Throughout this journey, Sandra provides a skillful presence that invites clients to embrace opportunities as they regain ownership over their lives and connection with self.
Over the years, Sandra has witnessed how difficult it can be to reach out for support, ask for help, and share personal struggles. She has a caring, empathic, and warm style that focuses on creating a compassionate and supportive environment where clients can be comfortable opening up, sharing their struggles and working on their goals. Sandra values and appreciates each client's uniqueness and enjoys working with clients from different ages, cultures, and life experiences.
Sandra is passionate about her work and continues to feel inspired by the counselling process and by her clients' courage, resilience, and strength.  She enjoys helping people grow and feel more connected with themselves and the people around them. Passion for her work and a sense of honour at having been invited in to be a part of her client's journey is a constant for Sandra.  As a committed lifelong learner, Sandra dedicates herself to updating her skills and engages in professional development courses each year, integrating new knowledge into her work with clients as they take on personal challenges and struggles.
As an integrated therapist, Sandra uses counselling methods that are best suited to each client's particular needs. Her strongest influences include Person-Centered, Cognitive Behavioural, Narrative, and Emotionally Focused Therapy.  In addition to her formal education, Sandra has continued further training in Cognitive Behavioral Therapy (CBT), Mindfulness based Cognitive behavioural Therapy (MCBT), Gottman Couples Therapy, Emotionally Focused Therapy for Couples and Individuals (EFT), Mindfulness, Depression, Anxiety, Grief, and Trauma, among others. Sandra also holds an Expressive Play Therapy certificate and a Gottman Program 7 Principles Educator certificate.
Sandra has extensive experience working with relationship issues, depression, anxiety, trauma, self-esteem, grief, parenting challenges (including transition into parenthood), stress management, multicultural issues, trauma, work/life balance, and major life transitions. She works with children and youth, adults, couples and families.
Sandra provides counselling services in English and Spanish.
Please note that Sandra's fees are slightly higher than other therapists.  You are welcome to ask about this during the booking process or when you first meet with Sandra.
Registered Clinical Counsellor, Sandra Buenano, is currently available for new referrals at the West Broadway location in Vancouver on Tuesday and Friday.
Email now at info.sandra@jerichocounselling.com to request information about a future appointment with Sandra and you will receive a reply from central booking to assist with the process.