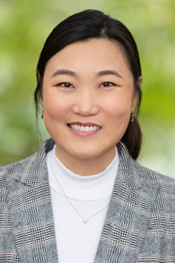 Sammi Lu
Bachelor of Science (BSc)
Graduate Intern Counsellor
Sammi is in her final year of the Master of Counselling Psychology program at Yorkville University. She is pursuing a Registered Clinical Counsellor (RCC) designation with the British Columbia Association of Clinical Counsellors (BCACC) following completion of her degree.
Sammi believes clients have the best knowledge of their lives. She supports each client's self-directed success by fostering an understanding of the barriers impacting their life and discovery of new interpretations, strengths, and healthy habits. Using her lived experience of diverse cultural aspects and interdisciplinary backgrounds allows Sammi to communicate pragmatically with clients. Through collaboration, flexibility, and responsiveness, Sammi seeks to build strong therapeutic relationships with clients as they seek growth and healing.
Given her experiences growing up in Asia and currently raising her own cross-cultural family, Sammi brings an authentic cultural perspective into therapy. Sammi has worked in finance and operations for almost 20 years, providing support to young professionals struggling with burnout, financial stress, and personal challenges. This background has influenced Sammi's counselling approach as she truly understands the challenges we encounter at various stages of life, career, and family.
Sammi strives to provide clients with a non-judgmental, genuine, and safe space. She integrates interventions from Gestalt Therapy, Narrative Therapy, Acceptance and Commitment Therapy, and Solution Focused Brief Therapy. Sammi also has experience working with individuals trying to manage grief, depression, anxiety, and life transitions including pregnancy, as well as relationship concerns and immigrants coping with challenges related to acculturation or adaptation.
Sammi provides counselling services in English and Mandarin.
Graduate intern counsellor, Sammi Lu, is accepting new clients on Tuesdays and Saturdays. As a graduate intern counsellor, Sammi will be under the direct supervision of the Director of Clinical Services, along with the support of her accredited university.
To inquire about a first appointment with Sammi, please send an email to info.sammi@jerichocounselling.ca and you will receive a response from the Central Booking to assist with the process.