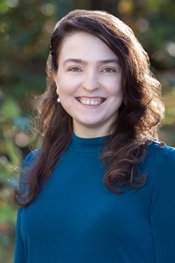 Sabina Lupasco
Master of Education (MEd.) in Counselling Psychology
Registered Clinical Counsellor
Sabina holds a Master of Education in Counselling Psychology from the University of British Columbia and is a Registered Clinical Counsellor. Prior to becoming a counsellor, Sabina gained experience in working in different fields, helping immigrants with career counselling, coaching and settlement, volunteering at the Crisis Centre as a crisis responder, helping individuals that experienced brain injuries in their recovery, as well as working with early onset dementia patients and their caregivers.
Sabina is a believer that the clients are the experts of their own lives and her goal is to guide them toward the direction that will help them to reach their full potential. In her work with clients, Sabina sees them as unique and is focused on understanding "their world" which includes core values, cultural beliefs, family history and the presence or absence of intergenerational trauma. In counselling sessions, Sabina's goal is to work in collaboration with clients on the establishment of a treatment plan, which often includes healing the past, but also learning new behaviours and habits, and setting up new goals for a better future.
With a passion for working with clients that have experienced childhood trauma, abandonment issues, and attachment issues, Sabina uses EMDR (Eye Movement Desensitization and Reprocessing) to help heal the past in order to live better in the present. Such clients often report low self-esteem, low self-confidence, procrastination, fear of success, fear of failure, difficulties in setting up healthy boundaries, and difficulties in interpersonal relationships with friends and partners.
Sabina has experience working with clients with depression, procrastination, anxiety, and panic attacks. She also worked for many years as a support facilitator for people that go through life transitions and stages, people moving towards retirement that have caregiving roles, people that experience grief due to the loss of a partner, a stage of life, a role in their life or a close person. Sabina supported and guided them along the journey of grief recovery and coping with life changes.
Sabina is originally from Moldova and provides counselling services in English, Romanian and Russian.
Vancouver Counsellor, Sabina Lupasco, is currently accepting new referrals at our Downtown location on Mondays, as well as our Broadway office on Tuesdays and Fridays. She is available at our Virtual Clinic on Monday, Tuesday, and Friday, as well.
To learn more about counselling with Sabina, please email info.sabina@jerichocounselling.com and you will receive a reply from Central Booking to assist with the process.