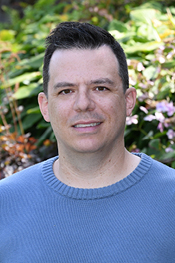 Ryan Mymko
Bachelor of Commerce (BComm)
Graduate Intern Counsellor
Ryan is in his final year of the Master of Arts in Counselling Psychology program at Yorkville University. He is a student member of the BC Association of Clinical Counsellors (BCACC) and the Canadian Counselling and Psychotherapy Association (CCPA). Upon completion of his education, Ryan will pursue the Registered Clinical Counselling (RCC) designation with the BCACC.
Ryan believes in fostering a client-centered relationship by creating space for the client to share their story. Using interventions from Cognitive Behavioral Therapy (CBT), Narrative Therapy, and Existentialism, as well as Mindfulness tools, he works with clients to help them reshape and redefine aspects of their personal stories that may be holding them back from meeting their goals. Ryan believes that clients have untapped strengths inside of them and he collaborates with clients to help them unearth these strengths.
Ryan seeks to explore the client narratives, bringing to light the ways in which those stories may be limiting personal growth. He supports clients on their journey to find new language to reframe their internal dialogue and rewrite their story. Ryan works alongside clients as they use their resources to create meaningful change for themselves.
Ryan's previous career working in finance and his experiences as a father of twins conceived via IVF, provide him with a unique perspective on balancing work and family life. He welcomes opportunities to support clients who may be facing struggles with work or career, relationship challenges, anxiety, life transitions, depression, anger, loss, and other life stressors.
Ryan provides counselling services in English.
Graduate Intern Counsellor, Ryan Mymko, is accepting new clients from across British Columbia, on Thursdays and Saturdays. As a Graduate Intern Counsellor, Ryan will be under the direct supervision of the Clinic Director, along with support from his accredited university.
To inquire about a first appointment with Ryan, please send an email to info.ryan@jerichocounselling.com and you will receive a response from Central Booking to assist with the process.