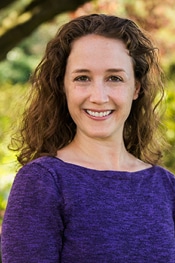 Noa Rabin
Master of Education (MEd) in Counselling Psychology
Registered Clinical Counsellor
Noa holds a Master of Education degree in Counselling Psychology from the University of British Columbia and is a Registered Clinical Counsellor.

She comes to Jericho Counselling with a background in couple's counselling, post-trauma work, addiction, anxiety, depression, grief and loss, and reproductive mental health.
Noa believes that the relationship between counsellor and client is key to a positive therapeutic outcome. Her counselling approach is rooted in creating an empathic, non-judgemental and client-centered environment for her clients to explore their presenting issues. She combines Cognitive Behavioural (CBT), Narrative, and Emotionally Focused Therapy (EFT) approaches based on the individual needs of each client. Noa believes that her clients are the experts on their own lives and her role is to help them rediscover their strengths and resources. She feels that change occurs when clients come to understand how learned behaviours and self-defeating beliefs hinder them from living a full and balanced life. She is a respectful and warm counsellor, and is known for creating a deep connection with her clients. Noa works collaboratively with her clients to achieve their goals and is aware that a dynamic therapeutic relationship also means that goals can change as counselling progresses.
Noa is particularly focused on working with clients dealing with infertility, recurrent pregnancy loss, postpartum depression, as well as anxiety and depression during pregnancy. In addition, she works with individuals and couples on issues that arise during major life transitions such as divorce/breakup, relocation, new parenthood, career changes, and loss of a loved one.
Noa offers counselling in English and Hebrew.
Vancouver Counsellor, Noa Rabin, is currently accepting new clients at our West Broadway location.
Email Central Booking now at info.noa@jerichocounselling.com and you will recieve a reply from Central Booking to assist in the process.