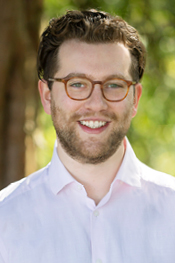 Micah Berlow
Master of Counselling Psychology (M.C.P.)
Registered Clinical Counsellor
Micah (he/him) is a Registered Clinical Counsellor (RCC) with the British Columbia Association of Clinical Counsellors (BCACC) and has a Master of Counselling Psychology from Adler University. Micah works with folks from all walks of life and values the multitudes of identities and cultures that we all contain.
Micah approaches therapy from the strengths-based Adlerian model and draws upon Cognitive Behavioural Therapy (CBT) and Mindfulness-based interventions. His trauma-informed, anti-oppressive and feminist lenses lead Micah to be attentive and curious to all aspects of client identities, especially attending to the historical, societal, and cultural contexts we live in and experience.
Encouraging clients towards self-empowerment, Micah works with people experiencing difficulties and issues such as anxiety, trauma, depression, ADHD, substance use, relationship issues, life transitions, and more. He is passionate about being there to support people in increasing their self-awareness and self-esteem and reconnecting with their communities in a safe, nonjudgmental, and confidential space.
Micah believes in everyone's capacity for healing and self-growth and encourages clients in life paths that include making healthier choices, as well as connecting with themselves and their communities in new and meaningful ways. With a focus on tailoring the counselling experience to each individual's unique makeup and identity, Micah will often include a combination of short-term coping skills and a long-term exploration which extends to learning how our family system and early environment shapes our worldview and movement throughout life. Micah sincerely admires the strength in each individual and believes we all have inherent value, simply through our existence in this life.
Micah provides counselling services in English.
Vancouver BC Counsellor Micah Berlow is available on Wednesdays, Fridays, and Saturdays and is accepting new counselling clients from across British Columbia.
Please email info.micah@jerichocounselling.com to request information about booking a first meeting and you will receive a reply from Central Booking to assist with the process.