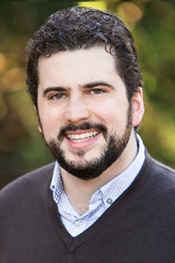 Matthew Stevenson
Master of Science (MSc) in Couple and Family Therapy
Registered Clinical Counsellor
Assistant Clinical Director

Matthew holds a Master of Science degree in Couple and Family Therapy from the University of Guelph. He is a Registered Clinical Counsellor with the BC Association of Clinical Counsellors as well as a Pre-Clinical Fellow with the BC Association of Marriage and Family Therapy. As part of the Leadership Team at the clinic, Matthew helps to oversee our clinical programs and build policy to keep Jericho Counselling adapting to the ever-changing needs for our clients and our community.

Matthew believes strongly in creating a safe, non-judgmental and supportive environment for his clients in their work together. His calm and respectful attitude help clients feel comfortable to be themselves in session and to move forward in a way that feels right for them.
Recognizing that everyone brings their own stories and experiences from their own lives into therapy, Matthew works collaboratively with his clients, moving toward achieving their goals using strategies that are grounded in their own lives. He also recognizes that clients' relationships are often an important part of their lives and therefore approaches his work from a systemic perspective, acknowledging the importance of existing relationships, community and values in the counselling space. He believes that clients already have the tools and resources they need to achieve their goals and strives to empower them to locate access and utilize these abilities and capacities more effectively.
In order to best fit each client's needs, Matthew uses an integrated approach to his therapeutic work, drawing on a number of different theoretical models including Cognitive Behavioural, Narrative, Emotionally Focused, and Solution Focused Therapy, in addition to Attachment Theory. Matthew has experience providing support to youth, adults, couples and families in a range of settings in both BC and Ontario. He comes to Jericho Counselling with a background supporting individuals, couples and families in areas including relationship concerns, anxiety, depression, anger management, parenting issues, low self-esteem, sexuality, grief and loss, and life transitions.
Matthew provides counselling services in English and French. Please note that Matthew's fees are slightly higher than some other therapists at the clinic. You are welcome to ask about this during the initial booking process.
Vancouver BC Counsellor, Matthew Stevenson, is available at our Secure Virtual Clinic on Monday through Friday and is NOT currently accepting new clients.