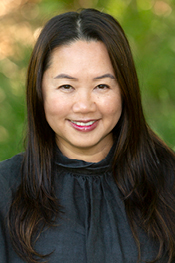 Maria Har
Bachelor of Arts (BA)
Graduate Intern Counsellor
Maria is in her final year of the Master of Counselling Psychology program at City University. She is pursuing a Registered Clinical Counselling (RCC) designation with the British Columbia Association of Clinical Counsellors (BCACC) following the completion of her degree.
Working from a family systemic lens, Maria helps clients identify patterns in their lives and relationships where they may be feeling unsettled. Maria's style is person-centered and she works collaboratively with clients to meet their goals of healing and wellness. She taps into Narrative and Solution-Focused therapies as well as Strengths-Based modalities to help clients on their journey.
Maria helps clients navigate the challenges that come with life transitions. Drawing from evidence-based practices, Maria provides support to individuals dealing with anxiety, depression, stress, family dynamics, and parenting issues, as well as acculturation and adaptation stresses. She strives to create a safe and nurturing environment where clients can openly address their concerns and emotions in a supportive and safe space.
Having immigrated at a young age to Montreal, Maria has first-hand experience straddling between two cultures. Her experiences of being in an interracial marriage and raising biracial teenagers has further attuned her to the intergenerational and interracial struggles that come with navigating multiple cultures. Additionally, she has worked for corporations in Asia and Canada, and this has also contributed to her cross-cultural perspective.
Maria provides counselling services in English and also speaks conversational Cantonese.
Graduate Intern Counsellor, Maria Har, is accepting new clients from across British Columbia, on Tuesday and Sundays. As a Graduate Intern Counsellor, Maria will be under the direct supervision of the Director of Clinical Services, along with the support of her accredited university.
To inquire about a first appointment with Maria, please send an email to info.maria.h@jerichocounselling.com and you will receive a response from Central Booking to assist with the process.