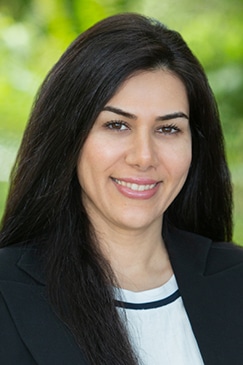 Mahsa Hamedanizadeh
Bachelor of Arts, Honours (B.A., Hons)
Graduate Intern Counsellor
Mahsa is in her final year of the Master of Counselling Psychology program at Adler University. She is pursuing a Registered Clinical Counsellor (RCC) designation with the British Columbia Association of Clinical Counsellors (BCACC) following completion of her degree.
While completing the Bachelor of Arts in Applied Psychology program in 2015, Mahsa became interested in mental health. Since then, she has worked in various settings serving individuals with diverse backgrounds including those experiencing anxiety, addictions, concurrent disorders, abuse, domestic violence, homelessness, grief and loss, and relationship challenges. With the belief that clients are the experts in their lives and working from a trauma-informed lens, Mahsa has supported her clients to navigate through their experiences and find their best way forward.
Mahsa acknowledges life challenges are real and that one may need appropriate tools to learn and experiment with them in a non-judgmental space. She believes that pain and struggles may be common, but suffering can be optional. When certain trials present themselves, they often limit and narrow our adaptation repertoire, leaving us psychologically inflexible. Mahsa supports her clients to experience psychological flexibility by exploring new ways to process their experiences. It is healing to know how to walk with our experiences at the same time as we honour and navigate them in a way that includes a life well-lived.
Mahsa believes that change and growth happen in a safe and trusting environment. She is known for her empathic and welcoming presence. She utilizes an integrative approach to therapy, including Cognitive Behavioural Therapy (CBT), Acceptance and Commitment Therapy (ACT), Motivational Interviewing, mindfulness, psychoeducation, and systemic approaches such as Satir Transformational Therapy to offer her clients various tools to meet their goals.
Mahsa provides counselling services in English and Farsi.
Graduate Intern Counsellor, Mahsa, is accepting new clients at our secure virtual clinic, where she offers appointments on Wednesday and Saturday. As a graduate intern counsellor, Mahsa will be under the direct supervision of the our Clinical Directors, along with the support of her accredited university.
To inquire about a first appointment with Mahsa, please send an email to info.mahsa@jerichocounselling.com and you will receive a response from Central Booking to assist with the process.