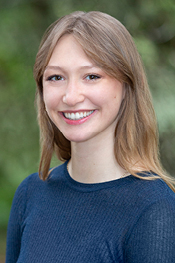 Jocelyn (Jocie) Tucker
Bachelor of Arts (BA)
Graduate Intern Counsellor
Jocie is in her final year of the Master of Counselling Psychology program at Yorkville University. She is pursuing a Registered Clinical Counsellor (RCC) designation with the British Columbia Association of Clinical Counsellors (BCACC) following completion of her degree.
Jocie has occupied various people-oriented roles over the years. She volunteered as a classroom assistant, and in a lab conducting research on couples relationships. Jocie currently volunteers as a peer mentor for individuals with eating disorders. With experiences that have led her to truly view everyone for the unique individuals they are, Jocie's aim is to help people discover and achieve their goals, whatever they may be.
Jocie believes that everyone deserves to feel supported throughout life and especially whenever challenges arise along the way. Sometimes, clients may have developed behaviours or stories that were previously helpful, but currently impede their path in life. Using her caring and compassionate nature, Jocie strives to work with clients to uncover these blockades and explore strategies that may enable them to discover a clearer and brighter path forward.
Working from an eclectic approach that integrates humanistic, Cognitive Behavioural Theory (CBT), and narrative techniques, Jocie believes every client is the expert in their own lives. She aims to create a genuine, and supportive connection with each client. Jocie supports clients who are struggling with anxiety, depression, relationship concerns, disordered eating, life transitions, addiction issues, self-esteem, boundaries, and self-confidence.
Jocie provides services in English.
Graduate Intern Counsellor, Jocie Tucker, is accepting new clients on Mondays and Fridays. As a Graduate Intern Counsellor, Jocie will be under the direct supervision of the Director of Clinical Services, along with the support of her accredited university.
To inquire about a first appointment with Jocie, please send an email to info.jocelyn@jerichocounselling.com and you will receive a response from Central Booking to assist with the process.