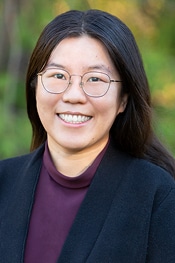 Hung Hsuan (Sandy) Wu
Master of Arts in Counselling Psychology (M.A.)
Registered Clinical Counsellor
Hung Hsuan (Sandy) is a Registered Clinical Counsellor (RCC) with the British Columbia Association of Clinical Counsellors (BCACC). She has a Master of Arts in Counselling Psychology from Adler University.
Hung Hsuan's (Sandy) approach to counselling is to be curious, open-minded, and non-judgmental. Empathy, genuineness, and mindfulness are the foundations that allow her to create a supportive and judgment-free space for her clients. Hung Hsuan (Sandy) has training and experience working with people who struggle with anxiety, depression, stress, and life transitions, as well as those who experience trauma, abuse, and violence. Hung Hsuan (Sandy) supports clients in their healing journey by integrating various techniques, including Cognitive Behavioural Therapy (CBT), Eye Movement Desensitization and Reprocessing (EMDR), mindfulness-based approaches, and trauma-informed practices.
Hung Hsuan (Sandy) provides counselling services in English and Mandarin.
Vancouver Counsellor, Hung Hsuan (Sandy), is accepting new clients at our secure virtual clinic, where she offers appointments on Tuesday, Wednesday, and Saturday.
To contact Central Booking about booking an initial appointment with Hung Hsuan (Sandy), please email info.sandy@jerichocounselling.com and you will receive a reply from Central Booking to assist with the process.