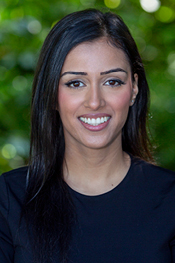 Gurpreet Khabra
Bachelor of Arts (BA)
Graduate Intern Counsellor
Gurpreet is in her final year of the Master of Counselling Psychology program at Yorkville University. She is pursuing a Registered Clinical Counsellor (RCC) designation with the British Columbia Association of Clinical Counsellors (BCACC) following completion of her degree.
Gurpreet believes in using a client-centered approach when working with individuals as she believes they are the experts in their own lives. Her pharmacy and health care service background provided her with opportunities to support clients hoping to move away from unhealthy patterns and to witness them adopt more balanced ones. As a result, she strives to provide a safe and caring environment for clients as they explore possible solutions to their problems.
Gurpreet is attuned to how mental health challenges impact our community and this has inspired her to begin her journey to become a counsellor. Being a first-generation South Asian Canadian, Gurpreet values cultural humility and tries to bring a level of cultural awareness to her practice. She integrates various interventions into her counselling work such as, Cognitive Behavioural Therapy CBT), Solution-focused Therapy, and Adlerian Therapy.
Gurpreet provides counselling services in English and Punjabi.
Graduate Intern Counsellor, Gurpreet Khabra, is accepting new clients from across British Columbia, on Wednesdays and Sundays. As a Graduate Intern Counsellor, Gurpreet will be under the direct supervision of the Clinical Director, along with the support of her accredited university.
To inquire about a first appointment with Gurpreet, please send an email to info.gurpreet@jerichocounselling.com and you will receive a response from Central Booking to assist with the process.