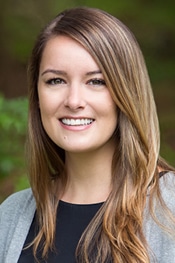 Genevieve (Genny) Cumming
Master of Arts degree (MA)
Registered Clinical Counsellor
Genny holds a Master of Arts in Counselling Psychology from Yorkville University. Her experience working with individuals living with or impacted by developmental disabilities has shaped her journey towards becoming a counsellor. Genny brings a passion for working with people into her practice, believing that a strong relationship between therapist and client is the foundation for healing.
Genny (Genevieve) advocates for reducing the stigma associated with mental health issues and works with her clients to help them engage in meaningful and healthy lives. Taking an individualized approach, she works eclectically in her practice, integrating Cognitive Behaviour Therapy (CBT), mindfulness-based techniques, a person-centered approach, and solution-focused therapy. Genny takes a holistic approach to healing, believing that the mind, body, and spirit are interconnected and are all important aspects of mental wellness. Genny's practice is informed by her belief that clients know themselves best, and works with them to re-connect with themselves and others. She works to create a warm, non-judgemental, and safe environment from which her clients can share, heal, grow, and embrace their lives again. Genny is interested in working with adolescents and adults of all ages, and with a variety of concerns including anxiety, depression, low self-esteem, stress management, developmental disabilities, grief and loss, life transitions, chronic health issues, and relationship concerns.
Genny provides counselling services in English.
Vancouver Counsellor, Genny, is NOT currently accepting new referrals.