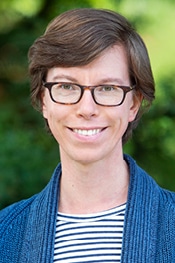 Florian Burfeind
Master of Education (MEd) in Clinical Mental Health Counselling
Registered Clinical Counsellor
Florian has a Master of Education in Clinical Mental Health Counselling and is a Registered Clinical Counsellor with the BC Association of Clinical Counsellors. They (Florian uses gender-neutral pronouns) have experience providing short and longer-term individual and group counselling to diverse individuals with a wide range of mental health issues and life concerns, including eating disorders, family-of-origin issues, and trauma. Florian is passionate about providing an affirming space for polyamorous and LGBTQIA/2S-identified individuals to navigate their path towards healing.
Florian believes that all of us may have moments in our lives when we can use some guidance and reflection. Counselling, as an inherently relational process, is the intentional co-creation of an internal, sacred space for change and growth. A space where old habits in thinking, feeling and willing can begin to be transformed, and new and slumbering impulses can come into being – so that you can become more you.
Using techniques drawn from a variety of approaches, Florian's counselling practice is person-centered and includes Narrative Therapy, Dialectical Behavioral Therapy (DBT), and Internal Family Systems therapy. Florian has experience supporting diverse clients with anxiety, depression, bipolar disorder, attention deficit disorder, problematic substance use, trauma, life transitions, grief and loss, and existential questions. They strive to integrate positive identity formation, awareness of intersectionality, and systems thinking in all aspects of their work with clients, and they use humour and a strengths-based approach that values what makes you unique.
Florian is particularly focused on working with clients exploring gender identity, gender transition, and coming out, as well as individuals and couples navigating queer fertility and parenting. In addition, they have experience supporting clients with eating disorders, body image issues and issues related to the mind-body connection.
Florian provides counselling services in English, Dutch, and German.
Vancouver Counsellor Florian Burfeind is available at our Downtown Vancouver office on Saturdays where they are not currently accepting new clients.
Florian is available at our West Broadway location in Vancouver on Wednesdays and Thursdays and is not currently accepting new counselling clients.