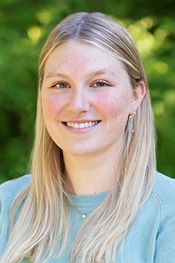 Emma Kiss
Bachelor of Science (B.Sc.)
Graduate Intern Counsellor
Emma completed a Bachelor of Science Degree in Biology and Psychology and is currently in her final year of the Master of Counselling Psychology program at Adler University. She is pursuing a RCC designation with the BCACC following completion of her degree.
Known for her ability to create a warm and safe therapeutic relationship, Emma works as part of a team with clients and together they devise solutions that uniquely fit the needs of each individual client. Each client receives a custom approach to their specific challenges, based on the intrinsic strengths, abilities, and capacities that are revealed through the therapeutic journey.
Emma's interest in a counselling career grew from her experiences working with diverse populations of all ages in long term volunteer positions. Her empathy and commitment to mentorship enhanced her ability to form authentic and professional connections in those roles. She has worked extensively providing support services to individuals with eating disorders, anxiety, depression, chronic illness, chronic pain, terminal illness, and bereavement. She has also worked with non-profits supporting female-identifying and non-binary individuals, members of the LGBT2Q+ community, and individuals with wide-ranging abilities and needs.
In her practice, Emma's calm, compassionate, and approachable nature enables her to put clients at ease. Emma uses Cognitive Behavioural Therapy (CBT) techniques to help her clients reach their goals, as well as integrating evidence-based interventions and strategies from Trauma-Informed Practice, Mindfulness, Narrative Therapy, and other modalities.
Emma provides counselling services in English.
Vancouver Intern Counsellor, Emma Kiss, is accepting new clients in our secure Virtual Clinic where she sees clients on Monday, and Thursday. As a Graduate Intern Counsellor, Emma will be under the direct supervision of the Director of Clinical Services, along with the support of her accredited university.
To inquire about a first appointment with Emma, please send an email to info.emma@jerichocounselling.com and you will receive a response from Central Booking to assist with the process.