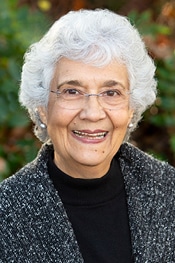 Elizabeth C.G. Fortes
Master of Arts in Humanistic Psychology
Registered Clinical Counsellor
Elizabeth has been providing counselling and psychotherapy services to a diverse collection of clients in Vancouver, throughout BC and in the Canadian Arctic, over a career that spans almost 40 years.
From her work with newly arrived immigrants and survivors of torture, to issues facing our Indigenous Peoples in the North, Elizabeth has served alongside many communities as witness and guide for some of these difficult journeys. She has described her own path as not always easy and smooth but blessed with sprinklings of experiences in the areas of travels, education, yoga, freelance radio, conference presentations, friendships, and serendipity.
During her career, Elizabeth has focused her work on a search for connections and disconnections between the political and the personal, the psychological and the cultural, and the differences between what brings suffering or peace to our experience of being human. Now as a mature immigrant to Canada and looking back from this present stage of her own journey, it is time to be called into service once again, as a therapist for people who are ready to search their minds and hearts, their history and present, as they seek to find purpose and meaning, as well as healing and relief from suffering, in their own lives.
Elizabeth is well equipped to support individuals, families, and groups who may be dealing with a variety of challenges, including anxiety, depression, addiction, life transitions, grief & loss, self-esteem and many other problems. For anyone struggling with trauma, whether it be acute or historical, Elizabeth specializes in the longer-term care that is often necessary to help with the healing of this unique problem, as she takes into consideration all of the multiple variables that gather to impact and influence how people experience and recover from these traumatic events.
Elizabeth provide counselling services in English, Spanish & Portuguese.
Vancouver counsellor Elizabeth Fortes, is NOT currently accepting new referrals.
To request information about an initial appointment with Elizabeth, please email info.elizabeth@jerichocounselling.com and you will receive a response from Central Booking to assist in the process.