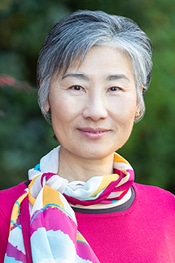 Cecilia Cheung
Master of Psychotherapy, Spirituality (MPS)
Certified Clinical Counsellor (C.C.C.)
Cecilia holds a Master of Psychotherapy and Spirituality, with a specialization in Art Therapy. After having worked in business administration for many years, Cecilia desired more personal connection in her work, and felt called to the service of counselling and psychotherapy, which eventually led her to Jericho Counselling.
Cecilia moved to Canada from Hong Kong when she was a young adolescent. She was later joined by her family, and settled in Victoria, B. C. Her emigration happened at a time when support for new residents was limited, and therefore, she appreciates the hardships of loneliness for home, cultural isolation, racial tension, and other daily demands faced by immigrants. She also understands the complexity of intergenerational relationships, and is familiar with the challenges of parenting children who have different cultural values and beliefs.
Cecilia has an integrative approach to therapy, and combines Dialectic Behavioural Therapy (DBT), Spirituality, and Art Therapy in her practice. She believes that the client's understanding of thought, behaviour, and emotion is the foundation for growth and change. She also feels that healing is grounded in the care of the body and self, and welcomes exploration in existential ideas such as connectedness, identity, meaning, and a way of life. Cecilia has experience with various populations including adults and youth who suffer from trauma, PTSD, eating disorders, substance abuse, depression, anxiety, and life transitions.
The arts are a natural conduit for personal, interpersonal, and spiritual developments. Cecilia uses the visual arts in therapy to create a process that is conductive to creativity, self-expression, and communication, which can generate experiences that are healthy, insightful, and fun. She offers artistic activities in many different media, and is happy to accommodate her clients' artistic preferences and inclinations.
Cecilia provides counselling services in English and Cantonese.
Vancouver Counsellor, Cecilia Cheung, is accepting new clients at our West Broadway location on Wednesdays and Saturdays, as well as our Downtown location on Fridays.
Please email info.cecilia@jerichocounselling.com to request an initial appointment with Cecilia and you will receive a response from Central Booking to assist in the process.