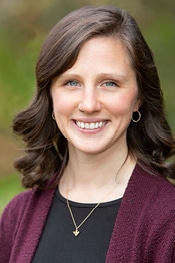 Brynn Hughes
Master of Arts (MA) in Counselling Psychology
Registered Clinical Counsellor
Brynn holds a Master of Arts in Counselling Psychology and is a Registered Clinical Counsellor with the BC Association of Clinical Counsellors. She is passionate about meeting people as they are, and collaborating with them in order to find healing and growth. Brynn believes that the foundation of therapy is building a trusting relationship between client and counsellor. She is committed to providing an authentic, non-judgmental, and caring presence in all the work she does with her clients. No matter who you are, living in this world can be challenging and hard at times, and Brynn is here to meet with you in the midst of what life brings your way.
Brynn believes that counselling can be a space for all people, no matter where they are in life. She takes an individualized approach to her work with clients, believing that each person's story and experience is unique. She uses a person-centered approach, integrating Cognitive Behaviour Therapy (CBT) and attachment-based therapy, alongside both experiential and solution-focused techniques. Most importantly, she strives to create a caring, open, and authentic relationship with her clients. She believes that her clients are the experts in their own lives, and hopes to walk with them as they rediscover who they are and want to be.
Brynn has worked with youth and young adults for the past ten years. This experience has encouraged her belief in the innate ability all of us have to grow and change. She has applied this experience to the counselling she has done with many other populations, believing that we can work towards healing no matter our age. Brynn works with issues such as depression, anxiety, self-esteem, relationship issues, life transitions, career concerns, and trauma, as well as grief and loss. Using a holistic approach to everything she does, and through believing that wellness is ultimately an integration of our minds, bodies, spirits, and relationships with others, Brynn looks forward to working with you to help achieve your dreams and goals.
Brynn provides counselling services in English.
Vancouver Counsellor Brynn Hughes is NOT currently accepting new referrals at our Broadway location where she sees clients on Tuesdays, Thursdays, and Fridays.
Brynn is also available at our Downtown Vancouver location where she sees clients on Mondays and is NOT accepting new referrals.
Please email info.brynn@jerichocounselling.com to request an initial appointment with Brynn and you will receive a response from Central Booking to assist with the process.