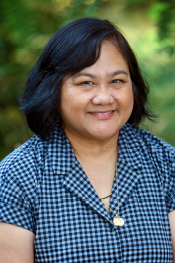 Bernadette Borres
Master of Education M.Ed.
Intern Counsellor
Bernadette (she/her) is an Intern Counsellor with a Master of Education in Guidance from the University of the Philippines, as well as course work from Yorkville University. Upon the completion of her clinical hours, Bernadette will be pursuing the Registered Clinical Counsellor (RCC) designation with the BCACC. Having lived and worked in urban and rural communities in the north, prairies, and the west coast, Bernadette has experience working with a variety of cultures including First Nations, Inuit, and Metis.
For Bernadette, life is about connection and relationship with people, and nature. With a background in psychology, human resources, career development, guidance and counselling in the academe, social services, and healthcare, she works with individuals and groups. She also enjoys facilitating life skills, career exploration, and other human relations trainings, Myers Briggs Type Indicator and Personality Dimensions workshops. Bernadette has worked with the youth and adults in their psycho-social, mental, academic, financial, and spiritual concerns. She approaches therapy from a client-centered model and draws upon Cognitive Behavioral Therapy (CBT), and Solution-Focused interventions. Using a trauma-informed, holistic, and strength-based approach to counselling, Bernadette compassionately listens to verbal and observe non-verbal behaviours of each person she encounters. Believing in the potential of each person, Bernadette supports and collaborates with clients as they go through challenges regarding self-esteem, identity crisis, anxiety, trauma, depression, ADHD, grief and loss, substance use, relationships, parenthood, and life transitions. She enjoys listening to people's stories and provides a culturally safe and caring environment where everyone is accepted in a non-judgmental way.
Having immigrated with her young children at a time when her career life was stable in her native country, Bernadette experienced the challenges of integrating into a new culture as a single parent. She journeys with people as they discover their unique gifts, hold on to their principles, love themselves more, reconnect with their support system, learn/relearn their culture, and achieve their life goals.
Bernadette provides counselling services in English and Filipino (Tagalog and Hiligaynon/Ilonggo).
Intern Counsellor Bernadette is accepting new clients from across British Columbia at our West Broadway and Downtown offices, and secure Virtual Clinic on Mondays, Fridays, and Sundays. As an Intern Counsellor, Bernadette will be under the direct supervision of a Clinical Director.
To inquire about booking a first appointment with Bernadette, please email info.bernadette@jerichocounselling.com and you will receive a reply from Central Booking to assist with this process.