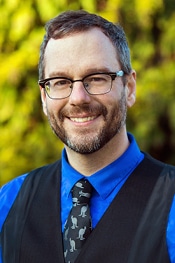 Benjamin Walsh
Master of Arts (MA) in Contemplative Psychotherapy
Registered Clinical Counsellor
Benjamin Walsh holds a Master of Arts Degree in Contemplative Psychotherapy from Naropa University. He is a Registered Clinical Counsellor.

Ben's practice of counselling is based on the understanding that the human mind is inherently sane, healthy, and pure. Negative patterns, whether they appear as depression, anxiety, addiction, or more serious forms of mental illness, arise originally as healthy responses to unhealthy situations. Problems occur when we continue to think, act, and feel in ways that are no longer appropriate to our current situation.
The process of psychotherapy, then, is to unfold negative patterns, both as they arise in the present and, in some cases, to explore the circumstances out of which they appeared. Ben uses a combination of mindfulness, cognitive techniques, and narrative therapy to help clients explore the roots of what troubles them, and to change painful patterns.
Ben works with individuals, couples, and families. His gentle, respectful approach is particularly helpful for those suffering from the effects of childhood trauma. He also has experience with anxiety, depression, relationship concerns, life transitions, self-esteem, addictions, grief and loss, anger management, and many other issues.
Ben has been practicing mindfulness/awareness meditation for more than fifteen years. His work history includes teaching English as a second language, working in the film industry, and more than five years working in group homes for the developmentally disabled. He has also worked with elders suffering from Alzheimer's and other forms of dementia. His counselling practice combines techniques from Dialectical Behavior Therapy (DBT), Cognative Behavior Therapy (CBT), Pragmatic/Experiential Therapy for Couples (PET-C), as well as Judith Herman's trauma recovery model.
Ben provides counselling services in English
Vancouver Counsellor, Benjamin Walsh, is currently accepting new referrals on a WAITLIST at our Secure Virtual Clinic location.
To request an appointment with Ben, please email info.benjamin@jerichocounselling.com and central booking will assist with the process.