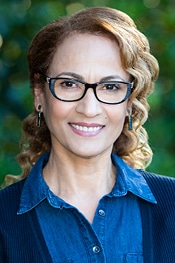 Behnaz Khatam
Master of Arts (MA) in Counselling Psychology
Registered Clinical Counsellor
Behnaz holds a Master of Arts in Counselling Psychology from the Adler University and is a Registered Clinical Counsellor.
Informed by a lifetime of diverse experiences, Behnaz embraces her role as counsellor with great honor, as well as a deep connection to clients about how challenging it can be to take risks as they reach out for help. Behnaz is dedicated to supporting clients with the highest degree of care and respect as she believes that increasing self-compassion, acceptance, and personal growth will lead clients to enhanced meaning and fulfilment in life. Behnaz also believes in our capacity for "change" in all aspects of life, and that as human beings, we all have the power to change our world and our future, even if it may not always obvious to us when we are struggling. Her first choice is always to view people through a positive lens, seeing personal strength and potential to change and grow in all aspects of life and in every moment.
Behnaz offers counselling for youth and adult individuals, parents, and couples. Behnaz has experience working with communication and boundaries, parents and adult children relationships, relationship and marriage issues, grief and loss, depression and anxiety, parenting through/after divorce, life transition: difficulty adjusting to important life changes and personal growth.
With an inherent trust in her clients' ability to grow and make resourceful, healthy choices if given the opportunity, Behnaz begins to build strong therapeutic relationships right from the first meeting. Her collaborative and egalitarian approach to counselling creates a safe and accepting atmosphere which allows clients to recognize and make sense of their experience. In her counselling practice, Behnaz incorporates evidence-based techniques from Cognitive Behavioural Therapy (CBT), Solution Focused Therapy, Emotion-Focused Therapy (EFT), as well as Person-Centered ideal, and Narrative approaches.
Behnaz offers counselling in English and Farsi.
Vancouver Counsellor, Behnaz Khatam, is NOT currently accepting.