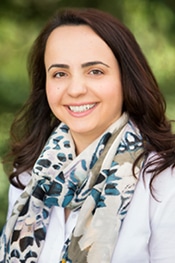 Roya Vojdani
Master of Arts (MA) in Counselling Psychology
Registered Clinical Counsellor
Roya holds a Master of Arts in Counselling Psychology from the University of British Columbia. She is a Registered Clinical Counsellor with the BC Association of Clinical Counsellors and is a member of Golden Key International Honour Society. Roya brings a wealth of knowledge and skills to her clinical work through her experience as a Crisis Counsellor, Employment Counsellor, and through working with clients from diverse backgrounds at different organizations such as Coast Mental Health and Vancouver Association for the Survivors of Torture (VAST). With a special interest in healing trauma, Roya holds certifications in Clinical Trauma (CCTP-I) and Complex Trauma Treatment (CCTP-II) with the International Association of Trauma Professionals.
With a view of the counselling relationship as an opportunity to help clients live more satisfying lives, Roya focuses on exploring feelings and thoughts, learning new skills, and building on strengths. She approaches each of her clients with an attitude of acceptance, respect, and curiosity and endeavors to be a patient and trustworthy companion for her clients in their journey toward self-discovery and personal growth. Roya's clients usually find her gentle and calm manner helpful in feeling safe and comfortable in therapy sessions. Through exposure to different cultures, Roya has developed a great cultural sensitivity and understands the important role of culture in shaping her clients' values and behaviors. She recognizes that clients come to counselling with different life stories, worldviews and experiences and attempts to understand the unique nature of her clients' difficulties. Roya then tailors her counselling approach to meet each client's needs.
Roya places a heavy emphasis on building a safe and strong relationship with her clients and has helped clients with a range of concerns including depression, anxiety, anger, stress, trauma, parenting, relationship problems, career, life transitions, and grief. She has also presented workshops on various topics such as parenting, anger management, and couple's relationship. Roya has received training and makes use of a variety of interventions from different evidence-based approaches including Acceptance and Commitment Therapy (ACT), Cognitive Behavioral Therapy (CBT), Emotion-Focused Therapy (EFT) and works with clients from a humanistic perspective.
Roya provides counselling services in English and Farsi.
Vancouver counsellor Roya Vojdani, is currently accepting new clients at the West Broadway location, where she is available on Friday and Saturday.
Roya is taking new referrals at our Downtown Vancouver location, where she sees clients on Tuesday and Wednesday.
Email now at info.roya@jerichocounselling.com to request information about future appointments with Roya and you will receive a response from Central Booking to assist in the process.