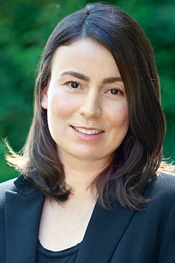 Ligia Cota
Master of Arts degree in Counselling Psychology
Registered Clinical Counsellor
Ligia's practice of counselling is rooted in a stance of acceptance and positive regard towards her clients. She makes it a priority to create a non-judgmental and supportive environment for her clients so that they can comfortably engage in the counselling process. Ligia values the inner resources that clients possess and utilizes a collaborative approach in which she journeys alongside her clients, helping them to cultivate new skills for handling difficult thoughts and feelings more effectively in the service of building meaningful lives.
Ligia has supported youth and adult clients from a variety of backgrounds and stages of life. With training and experiences in many areas, she is able to support clients struggling with anxiety, depression, low self-esteem, adolescent issues, parenting concerns, life transitions, and workplace stress. Ligia works from a client-centered approach and draws upon techniques from Acceptance and Commitment Therapy (ACT) and Cognitive Behavioural Therapy (CBT) in order to help clients reach their counselling goals. She is a genuine, caring, and engaging counsellor who strives to make each counselling session impactful for life outside of session.
Ligia provides counselling services in English.
Vancouver counsellor Ligia Cota is currently accepting new referrals on Monday through Thursday on our Virtual Counselling platform.
Please email info.ligia@jerichocounselling.com to book an initial appointment with Ligia and you will receive a reply from Central Booking to assist with the process.