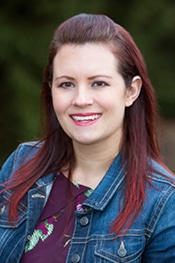 Janel Derrick
Master of Arts (MA) in Counselling Psychology
Registered Clinical Counsellor
Janel has a Master of Arts in Counselling Psychology and is a Registered Clinical Counsellor. She joins the Jericho Counselling team with a background in Applied Behaviour Analysis, having spent several years working with children diagnosed with Autism Spectrum Disorder and their families.

Janel's education, training and previous experience has prepared her to work with individuals, couples, adults, teens, children, groups and families following a collaborative and integrative approach. She holds steadfast to the belief that individuals are capable of achieving their desired change and strives to support her clients by building a strong therapeutic relationship, focusing on strengths and avoiding a "one size fits all" approach to therapy.
Using an integrative approach to therapy, Janel combines Cognitive-Behavioural, Solution-Focused and Client-Centered theories along with a non-judgmental and strengths-based stance. Janel has a broad experiential base including depression, anxiety, relationships, self-esteem, issues effecting children and youth, faith and spirituality, grief and loss, sexuality, stress, and life and career transition. Additionally, she has expertise working with children to support skill building in several areas and supporting families in addressing the behavioural health concerns of their children, along with managing the stress, anxiety, and relational issues that are often impacted by these experiences.
Janel provides counselling services in English.
Please note that Janel's fees are slightly higher than other therapists.  You are welcome to ask about this during the booking process or when you first meet with Janel.
Vancouver Counsellor, Janel Derrick, is available for counselling appointments at the Downtown Vancouver office on Wednesdays and Thursdays where she is not currently accepting new clients.
Janel is also available at our West Broadway location in Vancouver on Tuesdays and is not currently accepting new counselling clients.