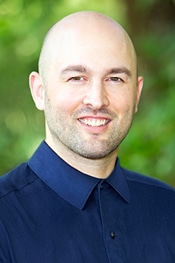 Jacob Butula
Master of Arts (MA) in Counselling Psychology
Certified Canadian Counsellor
Jacob completed his Master of Arts (MA) in Counselling Psychology at the University of Victoria in 2016. He is a Certified Canadian Counsellor (CCC) with the Canadian Counselling and Psychotherapy Association (CCPA).
Jacob has been working with adults as a mental health and addictions recovery specialist since 2010. Particularly formative roles include supporting the Fort McMurray wildfire recovery effort as the hospital's concurrent disorders therapist, completing a clinical internship at Three Bridges Addictions Services in Vancouver, and helping CMHA to manage the Interior Crisis Line.
The situations that bring people to therapy are typically complex and marked by suffering. Jacob has additional training and experience that inform how he supports the skillful resolution of clients' challenges. This additional training and experience include: anxiety, depression, relationship concerns, career and vocation issues, anger management, lgbqt2s wellness, grief and loss, brain-injury recovery, neurodiversity (i.e. autism, ADHD, HSP), and spiritual/existential concerns.
Jacob is committed to being fully present, non-judgmentally supportive, and sincere in every clinical interaction. Working with this foundation, Jacob collaborates with clients in finding satisfying, authentic, and settled ways of responding to their challenges. To support satisfying outcomes, Jacob employs therapeutic best practices supported by modern counselling psychology research. His professional style is most influenced by a decade of practicing Person-Centered care, post-graduate training in Cognitive Behavioural Theory (CBT) as supervised by a venerable psychology professor, twelve years of fastidious mindfulness study, and his graduate program's emphasis on Trauma-Informed Care. Other significant influences include Constructivist Psychotherapy, Dialectical Behavioural Therapy (DBT), Intersectional Feminism, Interpersonal Therapy, Creative Arts Therapy, Narrative Therapy, and Sensorimotor Psychotherapy.
Perhaps one day Jacob will pursue a PhD that allows him to synthesize his study of counselling psychology, analytic philosophy (BA Philosophy Major, UBC, 2009) and Zen Buddhism (lay ordained, Everyday Zen tradition, 2018). Having already decimated his hairline with so much intellectual searching, Jacob presently finds contentment in a simpler life. He hopes the coming years will be filled with Japanese food, nature meandering, bad puns, finicky cats, and tennis duels with his favourite people.
Jacob provides counselling services in English.
Vancouver Counsellor Jacob Butula is accepting new referrals at our West Broadway location where he sees clients on Wednesdays, Thursdays, and Saturdays.
To request an initial appointment with Jacob please email info.jacob@jerichocounselling.com and you will receive a response from Central Booking to assist in the process.