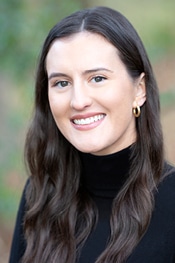 Danielle Kiss
Bachelor of Arts (B.A.), Master of Management (M.M.)
Graduate Intern Counsellor
Danielle completed her Bachelor of Arts in Psychology at the University of British Columbia. She is currently completing a Master of Arts in Counselling Psychology (MACP) at Yorkville University. Danielle is a student member of the Canadian Counselling and Psychotherapy Association (CCPA) and is pursuing a Registered Clinical Counsellor (RCC) designation with the BC Association of Clinical Counsellors (BCACC) following the completion of her degree.
Danielle is known for her strong passion to help others and this is what led her to pursue a career in counselling. Her empathetic and non-judgemental personality has allowed her to develop in her work as a counsellor. She has worked with and supported those experiencing anxiety, depression, general life stressors, along with various relationship and family issues.
With a warm, welcoming presence, and an ability to create a safe environment, Danielle strives to develop strong therapeutic relationships with clients. She gravitates towards using Cognitive Behavioural Therapy (CBT), Solution Focused therapy, Emotion Focused therapy, and Client-Centred approaches, along with other evidence-based interventions and strategies from different modalities. Danielle is committed to adapting her approach to each client to ensure that their needs, goals, and priorities are always treated with the utmost care. If you are seeking a counsellor that will work with you in a strong and respectful collaboration, Danielle welcomes the chance to meet with you.
Danielle provides counselling services in English.
Vancouver Intern Counsellor, Danielle Kiss, is accepting new clients in our secure Virtual Clinic where she sees clients on Tuesdays and Sundays. As a Graduate Intern Counsellor, Danielle will be under the direct supervision of the Director of Clinical Services, along with the support of her accredited university.
To inquire about a first appointment with Danielle, please send an email to info.danielle@jerichocounselling.com and you will receive a response from Central Booking to assist with the process.