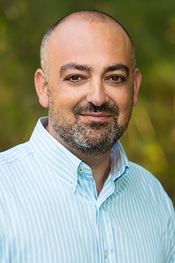 Ali Afzali
Master of Social Work (MSW)
Registered Social Worker
Ali has a Master of Social Work (MSW) from the University of British Columbia (UBC). Prior to his studies at UBC Ali completed his Bachelor of Social Work at the University of Victoria and also has a Bachelor of Arts in Sociology from Simon Fraser University. Ali is registered with the College of Social Workers of British Columbia.

After more than a decade of providing services to individuals and families within the non- profit and government sector, Ali decided it was time to pursue a graduate degree. The goal of this additional education was to provide another layer of capacity to support the clients that he is so passionate about helping.
Ali believes that individuals and families face many challenges throughout their lifetime. Even though these challenges could be considered an expected part of life, it does not mean they are easy to navigate. Without the appropriate support systems, tools, and life strategies in place, one can easily veer off course. Ali believes that the bold step of seeking support can be a crucial part of moving toward a life of empowerment and he is keenly aware of the courage it takes to reach out for help.
Within the systems of family and community, we are connected to other individuals, relationships, and frameworks that impact our wellbeing. Ali keeps the client in the centre of these understandings and seeks solutions from that perspective, even as part of the goal is always greater awareness of the overall system. Ali is trained and experienced with a variety of issues that individuals and families may face such as addiction, anxiety, depression, life transitions, parent and child relationships, anger management, and grief and loss.
Ali uses a wide variety of therapy modalities including Cognitive Behavioural Therapy (CBT), Solution-Focused approaches, and Systems-Based theory. He believes that each person is an individual and is unique, which means that Ali strives to build and apply a theory and practice that meets the needs of each client and their current circumstances.
Ali provides counselling services in English.
Vancouver Social Worker, Ali Afzali, is NOT currently accepting new referrals.